Labs Live: Agile 2 - This time it's Rituals was designed to further explore how to complete HR projects using Agile methodologies. As well as re-visiting some of the Agile fundamentals, our facilitators and participants embarked upon a practical run-through of Rituals and Ceremonies.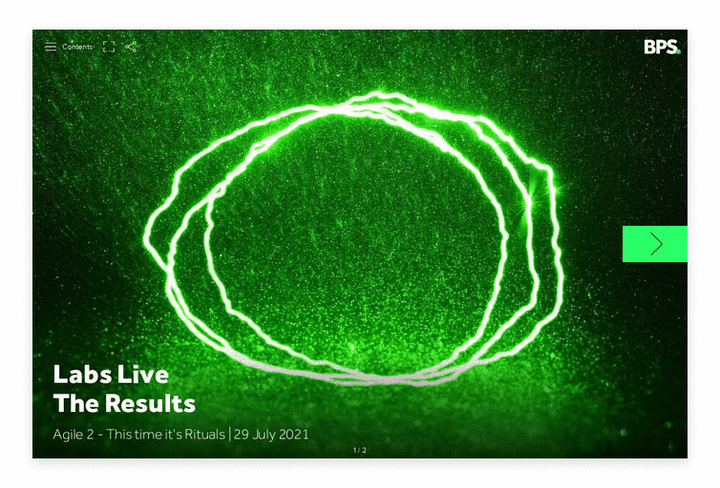 Once again, we partnered with People and Transformational HR to take HR Leaders on a collaborative adventure into Agile.
Our collaborative session was designed for HR teams who…
Have a foundation level understanding of Agile Principles (Roles, Kick-off, Roadmap).

Are eager to take a deep dive into Rituals and Ceremonies.
The Hypothesis
Agile methodologies are nothing new, but we wanted to explore how they could be used by HR teams.
The impact of the pandemic has required HR teams to be agile. They've had to be responsive, adaptive and creative.
But there's more to Agile than creative crisis management.
There's a well-crafted philosophy of Agile put to work for inventive, iterative and inclusive ways to solve problems and deliver projects.
Agile working creates more innovative ways to solve problems and deliver projects. It promotes flexibility, responsiveness, and inclusion in working patterns.
Our scenario
We would build on a foundation level understanding of Agile methodologies and take a deep dive into Rituals and Ceremonies. In other words, we wanted to examine how work gets done using Agile principles and explore how these can be applied to completing HR projects.
Building on these fundamentals, we would then move towards breaking down tasks and prioritising them for planned Sprints.
Following an Agile process, tasks were appropriately 'sized'. And we would use Rituals and Ceremonies to plot the milestones towards creating our Minimum Viable Product.
The Method
In attendance were senior HR professionals from the disruptive and fast-growing digital workplace sector.
Our expert facilitators
Perry Timms – Founder, PTHR.
Catalina Contoloru – Chief People & Operating Officer, PTHR.
Rachael Allen– People & Culture Director, BPS.
William Geldart – Brand & Labs Lead, BPS.
What we covered
The Agile Teams (Squads) model.
Agile fundamentals - a reminder.
An intro to Cycles and Rituals.
Sprints and Sprint Planning.
Work sizing.
The 5 key Ceremonies.
The Results
How does it all work?
Firstly, Agile teams are formed of people who WANT to be there.
The Product Owner (foreperson) holds responsibility for the demand/need (the project) and will own the vision. Meanwhile, the team itself will be self-selected and self-directed. This can be a challenge as the entire business needs to buy-in to this philosophy. There needs to be an understanding that teams are brought together for the benefit of the organisation, with parameters set for much how much commitment will be required.
Finally, the team will be disassembled on completion of the project. Every project must have a defined endpoint.
The maximum project term is typically three months, with the average timescale being six weeks.
You can have simultaneous sub-teams working on a project, provided they each have an Agile Coach to guide them.
Practical tip: HR teams should start to think in terms of 'product'. E.g – a new policy is a product.
Agile Fundamentals – A reminder
Agile Team
Product – Vision & Deadline
Product Story
User Stories
Product Backlog
Product Roadmap
Once an Agile team - or squad - has been assembled, they'll work through the Agile fundamentals with the aim of creating a list of tasks (Product Backlog) that will contribute to the creation of the end product. These will be organised into iterative Sprints (packages of work) and eventually turned into a Minimum Viable Product (MVP) for review.
During this process, a variety of Rituals and Ceremonies will take place.
An intro to Cycles and Rituals
Agile Cycles and Rituals allow for iteration and punctuation. After all, the Agile methodology is designed to keep energy and focus optimal.
Practical tip: People can move in and out of Agile teams, but the onus is on the leaver to find a replacement. This breeds accountability and ensures momentum.
Sprints & Sprint Planning
At this stage it's time to organise the Product Backlog into manageable sprints.
Practical tip: Get granular about each task from the Product Backlog. Ask yourself: "how long will this actually take?"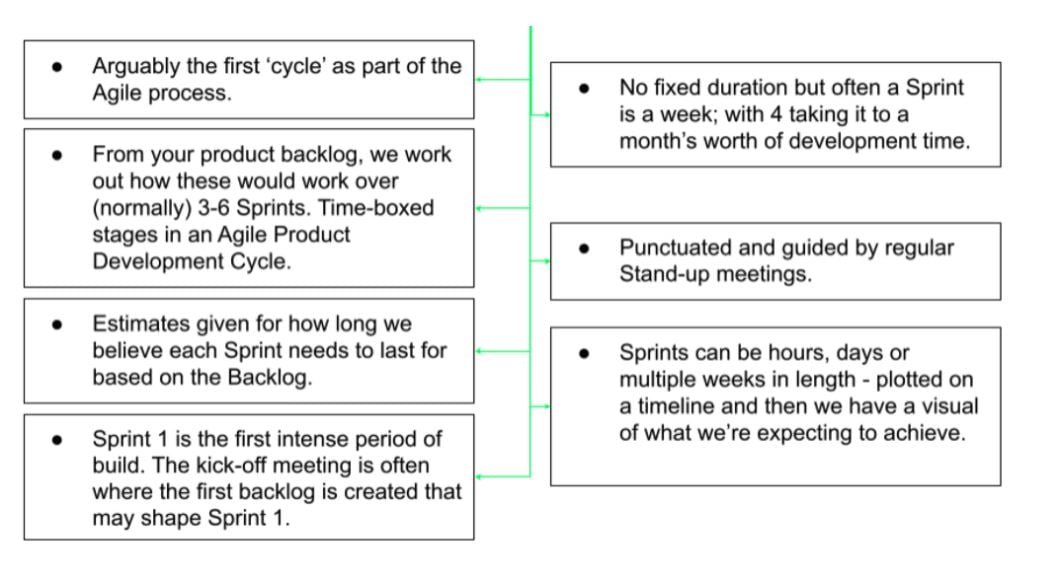 Kanban/Scrum boards for Sprints
Kanban/Scrum boards are used as visual aids for managing tasks and ensuring accountability.
Practical tip: Put names to tasks. Each person should only be working on one task at any given time. Share responsibilities and appeal to the team's spirit. One person can't hoard all of the 'glamorous' tasks.

Work Sizing
Work Sizing is important for defining the estimated time it will take to complete each task.
Practical tip: Define the size of tasks by agreed definitions, e.g Small (S), Medium (M), Large (L), Extra Large (XL), or use a scale between 1-10.

The Ceremonies
1. Sprint set-up meeting (what will happen?)
Many people (in IT) use Sprints to work up the different User Stories into overall product/solution.
You can Sprint based purely on the prioritisation/flow of tasks irrespective of the different User Stories.
Work sizing helps you appreciate how many tasks should be done in any given Sprint (how many people hours you have and how much the task estimations add up to).
Practical tip: Start moving your backlog of tasks into the Kanban/Scrum board at this stage. Play with tasks – are they too big, or too small?
2. The Stand-Up meeting (what is happening?)
What it's NOT:
Everyone shares their entire workload.
RAG assessments (if you like – not mandatory).
What it IS:


Each day: 15 minutes max.
Update the Scrum boards/task list.
"Yesterday I…"Today I…"
"Swarming" to any issues, lags or blockages.
Practical tip: The Stand-Up is a tiny narration of what's been found and learnt. It's NOT an update on workload, that much should be clear by looking at your Kanban/Scrum board.
3. The Review meeting (what has been done?)
This happens at the end of each sprint:
1 hour(ish).
What has been done.
Review the Minimum Viable Product.
Update backlog.
Remove what has been done.
Add new/update stories based on feedback.
Review priorities. Works well weekly.
CELEBRATE!
Practical tip: Take the opportunity to congratulate each other. Be specific when mentioning achievements and individual contributions.
4. Show and Tell (review of your MVP)
The Minimum Viable Product is:
The most rudimentary, bare-bones foundation of the solution possible.
Sufficient enough for early adopters.
Something tangible customers can touch and feel.
Your Show and Tell will be:
A display of Product concepts, including a flow of how the product is used by people. An explanation of how things work within your product forms the basis of a Show and Tell.
A way for the Users, and possibly the Product Owner, to show your early thinking and demo the MVP.
A forum where Users can tell you their initial reactions, and a chance for the Agile Team to invite Users to give input into what else is required and what adaptions need to be made.
Practical tip: Invite Users to ask: "what will this help us do?" Also, invite team members to share and put something forward. This doesn't have to relate to the MVP. Get people to co-create what something looks like.
5. The Retrospective (how it has been done)
At the end of a sprint, it's time evaluate:
How we worked as a team.
Review our delivery capacity:

Accuracy of work sizing.
Prioritisation and blockage clearing tactics.
Work in Progress (the TO DO column) learning – i.e, were things in progress for too long?

What to improve in the next sprint.
Practical tip: Think about and discuss what was good about how you've worked as a team.
Key takeaways
Agile is likely to be an alien way of thinking and working for many HR departments. However, it doesn't have to be daunting. Lean into the process and learn as you go.
Building solid foundations (i.e - a tangible Product Story, such as 'creating a personalised onboarding process', and User Stories), will make planning and working through Rituals and Ceremonies more seamless.
Encourage each team member to be accountable.
Make the process iterative, inclusive and fun! Agile is designed to ensure pace and momentum, it shouldn't feel like a slog.
Stick to Rituals and Ceremonies as closely as possible. Stand-Ups, Work-Sizing etc are designed to make teams work more effectively and with enhanced purpose.
HR teams can use Agile to create a huge variety of 'products'. Create policies using Agile, complete projects this way!
Individuals can create their own Kanban boards and work on their own personal projects using Agile.
Ultimately, HR can bring people together to solve problems using Agile!
We'd like to extend a huge thanks to our participants for their full involvement.
This is merely a snapshot of the session. Check out the full Results and keep an eye out for future events.
We'll be holding regular events aimed at empowering the HR community through education and knowledge sharing. If you're interested in attending future sessions then email me directly at william.geldart@bps-world.com or click here to sign-up.
Related Posts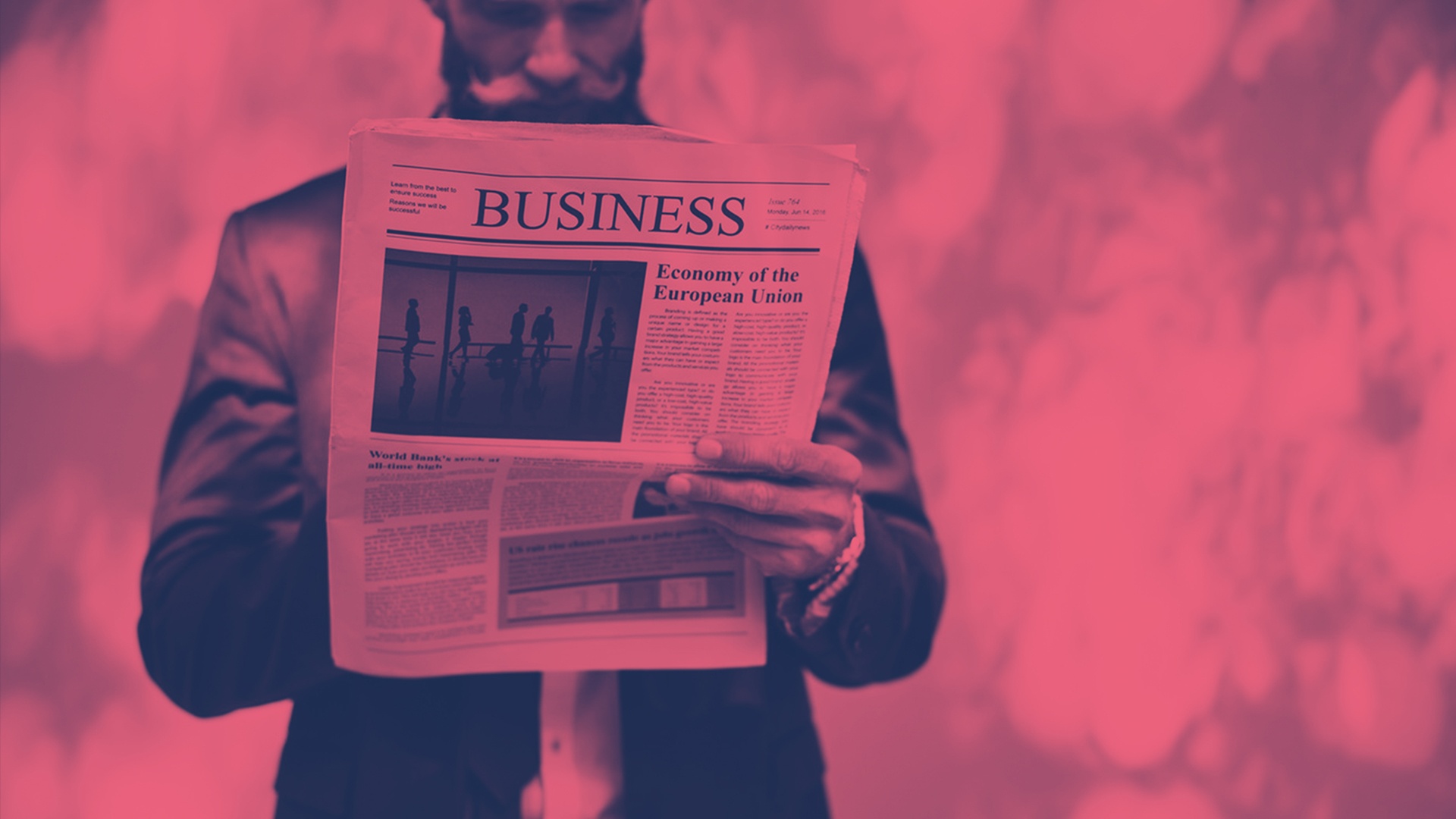 By William Geldart on April 11, 2018
The way we work and the way we think about work is changing. It's a continua...