Energy / Spotlight on the energy skills market: how is the world going green?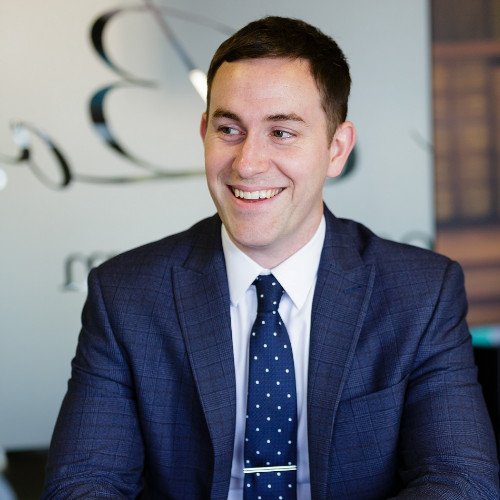 The energy market has arguably undergone the most intense scrutiny and enjoys the biggest focus in relation to the green transition.

The International Renewable Energy Agency (IRENA) predicts that the number of workers in the global energy workforce will jump to 122m by 2050, with 43m of those in renewables.
IRENA's Renewable Energy and Jobs Annual Review 2021 reported that 12m jobs were held in the renewables sector in 2020.

Crucial to further growth will be an investment in skills.

Perennial issues remain, including wider engineering skills shortages and the need for workers to retrain at least partially.
These concerns continue to be backed-up by various data points. A sizeable 41.3% of international respondents to The Brunel University Energy Outlook 2021 highlighted a lack of education and training as the leading reason for skills shortages in the energy market.
The same survey also found that 64.7% of those surveyed were prioritising the reskilling of their existing workforce, with over 36% targeting transferable skills from other industries.
Ultimately, a lack of necessary skills and expertise will delay key implementations and only serve to slow down the green transition.
Allied to this global headwind is the potential for cross-border brain drain.

According to the Global Wind Energy Council, a further 77,000 offshore wind workers will be needed across the world's six leading markets by 2024. Countries such as the UK lead the way in offshore wind expertise. However, with such a limited global talent pool – and big requirements from the USA and China – competition for skilled workers is likely to intensify, with attractive compensation set to lure talent away.
Plotting the boom in renewable energy jobs
IRENA's Renewable Energy and Jobs Annual Review 2021 is a near-100-page tour-de-force of the global renewables landscape.
Overall, worldwide employment in the renewable energy sector increased from 11.5m in 2019 to 12m in 2020. With 4m workers, the solar PV industry dominated, with solar expected to make-up the largest share of renewables jobs by 2050.

Across the board, the solar, bioenergy, hydropower and wind power industries continue to be the largest employers (see below):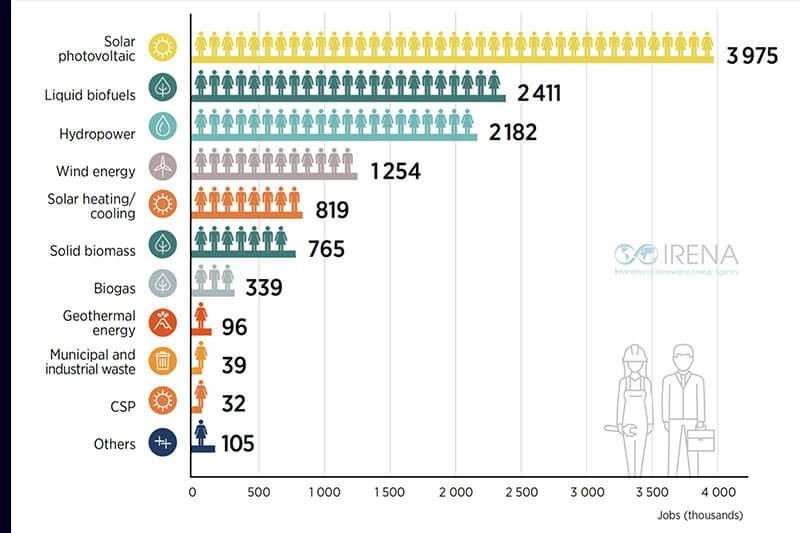 Source: IRENA Jobs database
The data and commentary is subject to regional and sector variance.
However, one issue not previously mentioned is diversity. IRENA's reporting found that only a third of the renewables workforce are women, with gender equity said to be negatively impacted by the Covid-19 pandemic.

A further breakdown reveals that 45% of the women employed in the oil and gas, renewables and wind power workforce are administrative professionals. Meanwhile, 35% are classed as Non-STEM professionals and 28% as STEM professionals.
Green Hydrogen is the next big bet – what's its job potential?
The emerging green hydrogen market is still in its infancy. However, its application and subsequent job creation potential has become a hot talking point.

According to IRENA's World Transitions Outlook – which outlines how the world can limit global temperature rises to 1.5°C – green hydrogen is projected to provide a >10% reduction in necessary greenhouse gas emissions by 2050. Its potential use in decarbonising 'hard to abate' industries, such as transportation, is particularly appealing.
From this perspective, and others involving energy security and green hiring, the idea of producing more hydrogen from renewable sources is gaining traction.

IRENA has gone further still in outlining the case for increased production. Its respective documents, Green Hydrogen for Industry: a guide to policy making and Green Hydrogen Certification Brief both outline solutions for scaling up its use.
The European Commission is broadly in favour of more green hydrogen as it seeks to move away from imported natural gas. Current pledges include investing $430bn in green hydrogen by 2030.
However, realising its potential will depend on greater cross-body consensus and understanding to overcome cost barriers, technical hurdles and mitigation of carbon leakage risk.

While addressing these issues will challenge policy makers, the calculated benefits to the climate and economy are already becoming more tangible. This is especially true when compared to the medium-term solution offered by blue hydrogen.

With its underlying technology already mature, blue hydrogen lacks the same potential to create an innovative domestic industry with related economic benefits.
In total, estimates predict that the green hydrogen economy could create as many as 1.5m upstream jobs in the EU by 2050.

Meanwhile, IRENA's Outlook indicates that investment in green hydrogen infrastructure could create around 2m jobs worldwide between 2030 and 2050.

"Blue hydrogen is less interesting from a jobs perspective than green hydrogen." - Catrinus Jepma, New Energy Coalition
This is a chapter excerpt taken from
'A Global Update on the State of Green Hiring – 2022 edition'.
Get the guide and learn more about the pace of change and how we can enable a just transition to a greener future.