'Your First 100 Days – HR Edition' is the how-to guide for senior HR leaders eager to make their mark.
Building relationships and getting under the skin of an organisation is an essential part during this early phase.
However, 'Your First 100 Days' is not littered with text and theory that attempts to cover the nuance of every unique situation.
Instead, the guide focuses on actionable steps to follow, while affording you the much-needed freedom to 'figure it out' yourself.
Ultimately, these foundational building blocks will help you craft your initial strategy and successfully execute.

The 5 key steps to follow
These are the 5 key steps covered:
Establishing presence.

Reviewing your landscape.

Dealing with today, building for tomorrow.

Communicating change, fuelling growth.

A timeline for success.
New remits, new HR challenges
The market for HR talent has exploded. According to data from Honch.io, 8,240 UK HR decision-makers were appointed in H1 2021.
Meanwhile, 2,722 execs were promoted to new decision-making remits. And March, April, May and June witnessed consistent hiring levels above 1,500 per month.
It's an oft-repeated cliché that HR has longed for a 'seat at the table'.
And if it hadn't beforehand, circumstances over the past 18 months have represented an opportunity for HR to more than earn that right.
The leaders that guide the people function play a crucial role in delivering business success.
However, spearheading the charge is not without its challenges amidst a complex and ever-evolving landscape.
To succeed, the modern HR leader needs to be many things to many people. The role demands strategists, do-ers who know when to delegate and expert communicators that can demonstrate business impact.
For those new in post, there's an exciting journey ahead.
Establishing presence
A senior HR leader's remit goes beyond the confines of the HR function. And as the new incumbent, you'll want to identify the people of influence and build strong relationships from the outset.
Naturally, the relationship you enjoy with the Chief Executive Officer will be key. However, don't overlook the other members of the C-Suite.
The Chief Operations Officer, Chief Finance Officer and the Chief Technology Officer are among the other allies you'll want to court as you develop your HR function and workforce strategies.
'Your First 100 Days' runs through the seats of influence in more detail, and outlines the essential questions to consider when meeting your own HR team for the first time.
Reviewing your landscape
Hunt, gather and don't be afraid to keep asking the same questions to get the clarifications you need. A large part of this process involves obtaining a thorough understanding of how your new employer operates. Questions to ask include:
How does the business make money? Where are the challenges?
What's our unique competitive advantage?
What are the current market conditions? Are they likely to change soon?
What do people value about the organisation? What don't they like?
What is the pre-existing perception of HR?
How do we stack-up to the competition on product/service, pay, benefits and training and development?
Tailor your approach to meet different stakeholders on their terms. For example, your board level colleagues may prefer structured 1:1 interviews. Meanwhile, it can be more beneficial to host focus groups with wider business units. Whichever way you do it, make sure to create an environment where colleagues feel comfortable.
Dealing with today, building for tomorrow
Now that you're armed with information, it's time to get down to quick wins and strategy development.
Putting out a few 'fires' will help establish your credibility and provide you with insight into how your HR team currently operates.
This stage is also crucial for outlining your HR function and workforce strategies.
Workforce strategy
Your workforce strategy will essentially outline the people requirements of the business strategy. How will HR support business success and ensure customer satisfaction? Ultimately, this is achieved by having the right people in post, performing to the best of their ability.
A workforce strategy contains many components. However, these should not exist in isolation. Creating a successful workforce strategy requires a joined-up approach to driving positive business outcomes. It's underpinned through the effective use of People – Process -Technology and includes Reward and Learning and Development.
HR function strategy
The HR function strategy defines the 'what' and the 'how your HR team will deliver. It should include your priorities, outline roles and responsibilities, and factor in detailed deliverables.
Revisit your learnings and regularly check back in with stakeholders to ensure you're on-point. Because the function strategy is where you start to translate a plan into action.
It should address your short, medium and long-term goals (quick wins/immediate concerns, addressing capability gaps and strategic initiatives).
Communicating change, fuelling growth
As a leader of change, you'll need to develop and execute upon a robust communication strategy. This will need to be tailored to meet different audiences and their needs.
However, you can't do it all alone.
Senior HR leaders should also identify key departmental allies and empower their colleagues to join them on the podium. Equally important is encouraging your HR fraternity to form strategic alliances with cohorts in other teams, such as Marketing, Finance and IT.
Finally, give everyone a stake in success. Securing buy-in for HR initiatives will enable you to transfer ownership to other senior peers and their teams. Thereby affording them their own responsibility for activation, results, and success.
Over to you…
This summary only skims the surface. Get the guide and keep checking back. This is a live document and we'll continue to feed in the latest guidance and testimonials from senior HR leaders who've been in exactly your position.
Related Posts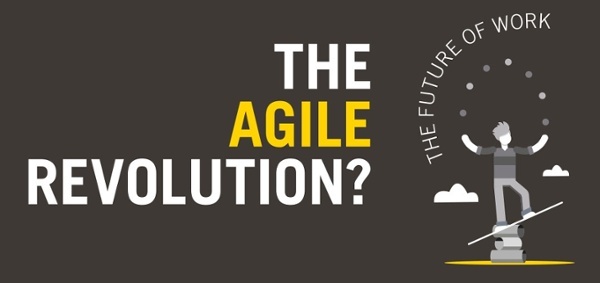 By Megan Joyce on October 9, 2017
To work in an agile way, you need the balance of clearly defined goals, a di...