Today we have been announced as one of LinkedIn's top 25 most socially engaged recruitment organisations, this is an outstanding achievement that we are very proud of.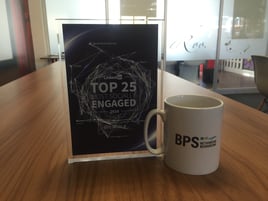 https://business.linkedin.com/talent-solutions/events/16/10/most-socially-engaged/enterprise-firms
This got me thinking about why is it important to be socially engaged? I used to laugh at my mum as a child (and sometimes as an adult) when she told me she'd met a new friend on the bus to work! It was in fact a family joke for many years that whilst stood on a cold February morning waiting for the 458 to Uxbridge, a queue of people would gather, all with a common purpose, in their winter woollies, all interested in what one other was planning for their day. It extended on many occasions to sharing recipes, tips on how to use the early word processors, recommendations for family holidays and even spurned a book club! Little did we realise at the time that this was in fact the beginnings of social engagement!
I often imagine that queue today being ten times larger and that bus fifty times taller! Imagine the conversations you could have, the information you would share and the amount of stops you'd have to make! Now imagine that there are fifty more buses ready to pick up passengers behind your bus - all headed to the same destination but with different kinds of people, with different ideas and opposing views.
Our journey to social engagement started around 5 years ago, when we did just have a handful of people standing around in the cold waiting for the proverbial bus. Along that journey, we've picked up some great ideas, we've built an inbound marketing capability to compliment (not replace) our outbound activity, we've worked hard to create highly relevant content for people who are interested in what we have to say, so they come back and want to learn more. We've taken care to avoid isolated content, we always look to join up what we say with action, comment, opinion and evidence. We love other people's content and when we love it we share it! We always use our brand as a guide, it informs our tone and our actions. We strive for authenticity, to produce conversation, commentary and content that has a Real Voice in what is often a crowded space.
Over the years my mum stayed in contact with many of her 'bus' friends and although their lives have moved on (in most cases into a car) their need to remain in touch, up to date and share information remained as true today as it did then - they now just use social media! In the same way we believe that by engaging people, they become our friends and who knows how long that relationship will last!
Just as a footnote - I no longer laugh at my mum, in fact I saw her this morning and gave her a big hug!
To find out more about the importance of being socially engaged and how this can improve your recruitment offering please contact Natalie Spearing on natalie.spearing@bps-world.com