Defining Recruitment Process Outsourcing (RPO) continues to be a hot topic. With the industry rapidly changing there have been plenty of labels thrown around.
Added to that, the broad offering of RPO and different ways its implemented means it's not always easy to pin down.
Which is why we've produced What is Recruitment Process Outsourcing? A global guide.
As well as offering a brief history of RPO, our guide also explores the growth of RPO across different regions, the model's benefits and what you should expect before, during and after an RPO implementation.
But for now, we're going to focus on:
Defining Recruitment Process Outsourcing
The key traits of RPO
A brief history of RPO
The RPO evolution
The future of RPO
The different types of RPO
Defining RPO
The Recruitment Process Outsourcing Association (RPOA) defines Recruitment Process Outsourcing (RPO) as: "a form of business process outsourcing (BPO) where an employer transfers all or part of its recruitment processes to an external service provider.
"An RPO provider can provide its own or may assume the company's staff, technology, methodologies and reporting. In all cases, RPO differs greatly from providers such as staffing companies and contingent/retained search providers in that it assumes ownership of the design and management of the recruitment process and the responsibility of results."
Or to put it another way, here's our more succinct version:
We provide HR leaders with a competitive advantage in the ability to attract, recruit and retain the right people. Our unique approach creates cost and time efficiencies at scale.
We ensure companies get the best people ahead of the competition. Not only with regards to their technical skills but also by assessing cultural fit too
Ultimately, working with a fully-aligned single partner reduces the need for countless agencies and will save both time, money and raise the quality of your candidates by improving the overall hiring experience.
The Key Traits of RPO
How does this thinking manifest itself?
An effective RPO solution is:
A long-term partnership, not a quick fix.
A complete re-evaluation of how you hire, now and in future.
A more seamless way to hire at scale.
An extension of your HR tram.
A hands-on approach.
In short, teaming-up with an RPO provider is a commitment to developing a longer-term partnership that will yield the desired outcomes over an agreed timeframe.
Working as an embedded single partner, a good RPO provider will take a deep dive into why your business might be struggling to attract key people, where the skills gaps are and implement measures to address this.
As part of this process, RPO focuses on streamlining the hiring process to deliver multiple hires faster and more cost-effectively than a widespread host of suppliers.
Finally, while there's a consultative element to RPO, it involves far more than that. An RPO provider will also do the heavy lifting required to ensure compliance, mitigate risk and ensure quality control throughout the hiring process.
A brief history of RPO
Don't worry, we won't bore you with all the intricacies of RPO.
But we will give an overview of its evolution.
The RPOA pinpoint the advent of RPO as being around 2004.
Outsourcing wasn't a new concept in the business world. But the idea of completely outsourcing your permanent recruitment was considered radical at the time.
Most HR leaders initially met the idea with resistance. This led to the RPO pioneers having to pick up undesirable projects that either agencies had failed to deliver on or no-one else wanted.
Given the adaptable nature of RPO, this situation provided the ideal testing ground.
Projects that involved high volume, low complexity recruitment were completed with cost and time efficiencies.
Meanwhile, those that involved low volume, high complexity work were also successfully delivered by RPO vendors prepared to put in the hard yards to meet very niche requirements.
The need for RPO
The environment of the early 2000s created a perfect storm that RPO providers were able to capitalise on.
The dotcom boom (and subsequent bust) created a more complex market.
There was an acceleration in the number of new tools and companies entering the recruiting space.
Businesses started to scrutinise their budgets in more detail to reduce fixed costs and increase operational profits.
Et voila, RPO was born.
That final point is especially relevant within the context of outsourcing. The method was already popular. And given its success the business world started to catch-on to how this could be translated to their whole recruitment cycle.
However, while RPO's initial focus was predominantly centred on cost-cutting and hiring at scale, its capabilities are now far more holistic and strategic.
The RPO Evolution
Writing for HRO Today in 2008, Andy Teng came up with this description of early RPO:
"Think of recruitment process outsourcing (RPO) as Jell-o. Just a few years ago, it was a liquidy, amorphous practice few could put their arms around."
In the beginning many HR leaders and companies weren't comfortable with the idea of handing over all or even some of their recruitment to a third-party. Education was required to fully explain the model's process and its tangible benefits.
Teng continued: "Today, however, RPO is gelling. A common definition on what constitutes RPO is emerging, and the party-goers assembled under its big tent seem more capable of agreeing on the traits of recruitment outsourcing. Consensus on scope of service, fee structure, important metrics, and other deliverables is apparent, and while various forms of implementation continue taking place, market growth is vibrant, steady, and expected to continue during the next few years."
That was a decade ago.
Now the benefits of using an RPO solution are even more clearly defined. RPO has evolved to encompass all areas of talent acquisition and strategy.
Here's the rough evolution:
RPO Stage 1
Costs and efficiencies
Reduction in costs.
Reduction in time-to-hire.
Move to standardised processes.
Process efficiency.
RPO Stage 2
Business Impact
Ability to scale services up and down.
Access to increasingly rare talent.
Enhanced employer brand.
Workforce planning.
Building of talent pools.
RPO Stage 3
Strategic Direction
Alignment of recruitment strategy to overall business strategy.
Emphasis on talent as a differentiator.
Holistic approach to hiring (a mixture of permanent and contract recruitment).
Increased focus on candidate experience.
Measurement of quality of hire.
Suite of value-add services, including: employer branding, predictive analytics, Business
Intelligence reporting, pre-employment screening, onboarding and talent pipelining.
The future of RPO
In its initial phase, RPO did what it said on the tin: typically, volume recruitment that was cheaper and more efficient than that delivered by multiple partners.
However, advances in technological capability and a concentration on strategic direction have changed this outlook.
The increased use of tech to shape talent strategy
RPO providers have access to increasingly advanced technology. This enables them to tap into wider talent pools and better analyse skills gaps, how to fill them and even predict when an individual is likely to exit a business.
Not only has technology created new ways to engage talent (e.g via social media) it's also helping to shape strategy.
For example, predictive analytics can take unbiased measurements of core competencies, soft skills and personal profile to assess an individual's suitability for a role and whether they'll fit into the company culture.
These tools can also be used to pre-empt when existing employees may decide to leave.
All of this information is invaluable for analysing present requirements and mapping for the future.
Building true partnerships
The connotations surrounding the 'O' in RPO arguably need revising.
Rather than outsourcing in the traditional sense, RPO teams are being invited in via the front door in greater numbers.
The RPO businesses that thrive are fully integrated with their clients and enjoy a deeper understanding of their hosts' organisational design and culture. They employ talent experts, offering strategic advice, not merely cheaper sources of labour.
The best in RPO are also agile. By having a scalable suite of services it's possible to adapt seamlessly to an evolving market and tailor relevant products to specific requirements.
The different types of RPO
While you can break the following down further we thought we'd keep it brief and provide an overview of the three main types of Recruitment Process Outsourcing.
As RPO is such a flexible model its implementation can be structured accordingly.
On-Demand RPO
Otherwise referred to as Project RPO, the On-Demand version is utilised during a specific period of time from the beginning to end of a recruitment project.
On-Demand RPO will address a specific need and is typically implemented when a business has a pressing requirement owing to rapid change.
For example, should an organisation find they have a large contract to fulfil in one quarter, an RPO provider's recruiters can step in and help them staff up at speed.
Function-Based RPO
Function-Based RPO, or Hybrid RPO, involves an RPO provider assuming control of a specific business unit, group or geography's recruitment on an ongoing basis. This can also involve enlisting the services of more than one provider, i.e – the assignment of multiple partners to different areas, according to their level of expertise.
The buyer will still use their own in-house recruitment teams but will opt to use their RPO partner(s) to manage specific functions.
In its Function-Based form, an RPO provider will assume control of a particular division or area while the inhouse recruiters can focus on the rest of the company.
Full Recruitment Process Outsourcing (RPO)
The third type of RPO, "Full" or "Enterprise RPO", is when the RPO provider manages a company's entire end-to-end recruiting Function.
From sourcing, marketing and interviewing to analytics and measurement, this solution offers clients the full breadth of core and value-add services and expertise that they otherwise wouldn't have on their own.
Ultimately, RPO engagements will all differ but they'll fall between the spectrum of these three basic models.
That's an introduction to RPO.
Want to know more?
And feel free to get in touch with me if you'd like to discuss the business benefits of teaming-up with an RPO provider.
Email tristan.chinn@bps-world.com.
Related Posts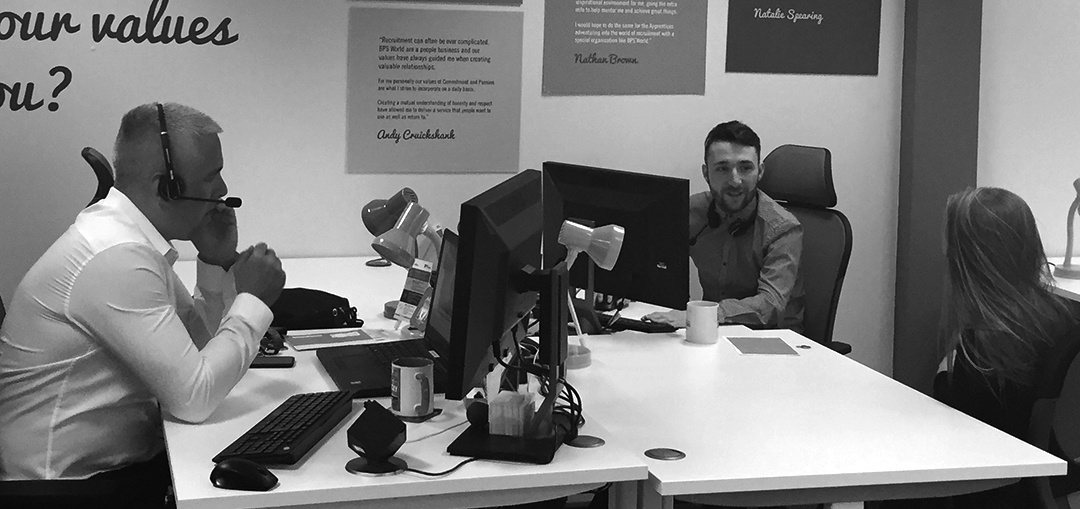 By Toby Garrod on November 3, 2015
The question over Resource Process Outsourcing (RPO) versus In-House recruit...