Attraction / How to discover your employer brand: a whistle stop tour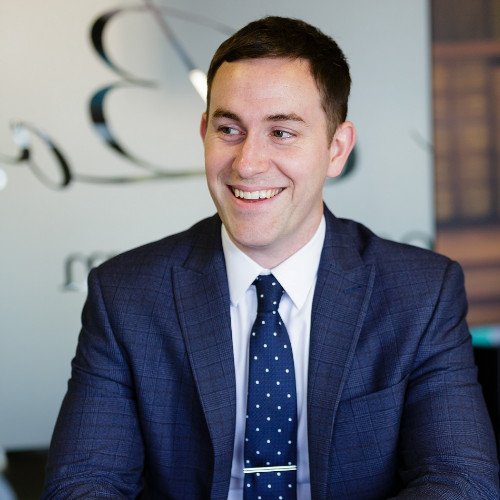 Chances are you'll have performed an individual self-evaluation during your career. Not always easy, is it? The same can be said of defining an employer brand. But I'll get to that.
Firstly, think back to when you've had to really open up about who you are, what you stand for and how you go about your daily business.
Throughout the process you probably had to ask yourself some tough questions and define what makes 'you', erm, you.
That's hard enough.
Imagine being a set of business leaders, often forced to sit down and agree on what makes-up the identity of an entire company.
In my experience, this scenario will often produce conflicting opinions, cultural nuances will be flagged and occasionally there'll be heated debate.
But it needn't be this way.
In the right environment, and with the correct facilitation, defining your company identity and building out your employer brand can be a relatively harmonious affair.
Because when it comes to what's important, there are some things every HR and C-Suite leader can agree on.
And that's where this whistlestop tour of discovering your employer brand comes in.
Whether you know it or not, you already have an employer brand. These are just the first steps to harnessing it.
In this blog I'll examine:
Defining 'talent'
EVP, your competition and collateral
Candidate experience
Scoping out the project
Defining 'talent'
What does 'talent' mean to your business? It's such a catch-all term now that it's almost lost significance.
But if we take the original aim of the label, let's re-phrase the question slightly:
How do you define the best people in your organisation? The high performers, the creative thinkers, the adaptive chameleons, the difference makers.
Setting high performance standards is one way to evaluate the calibre of your workforce.
But who are the ideal people you'd love to hire? What's the make-up of your current workforce? Is it diverse and inclusive enough?
What do your best people enjoy doing? What are their beliefs, their key drivers, their motivations?
These are the questions you must answer first to identify your target audience.
EVP, your competition and collateral
OK, the headline does say this is a whistlestop tour!
Employer value proposition (EVP) alone could take up plenty of column inches so I'll try to keep this short and sweet.
Having a clearly defined EVP is essential to developing out a successful employer brand.
It acts as your 'north star', consisting of your core positioning, brand pillars and the tailored content marketing that follows.
This can often prove to be a huge stumbling block in the creation of an employer brand. I've found that stakeholders can often agree on the core message.
However, the pillars that sit underneath – the 3-5 qualities that define your employer brand – can be tricky to pin down.
Are your pillars merely a replica of your values? Or are they other elements of your brand identity?
Here's how Adidas break down their pillars: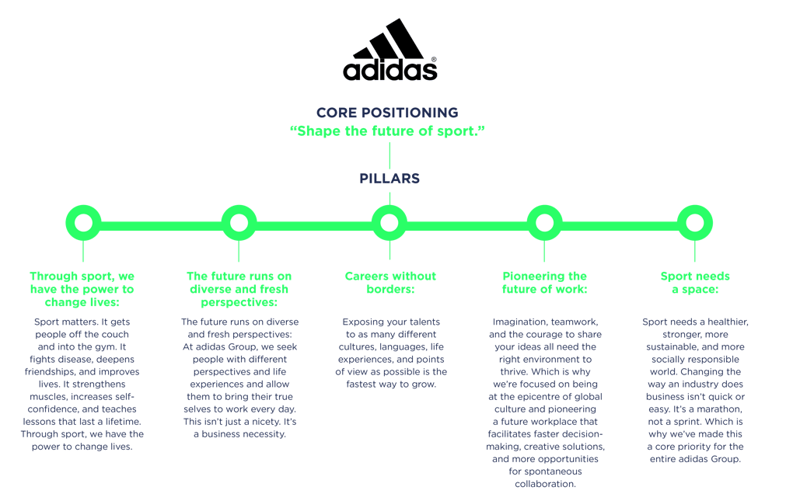 Still struggling? My advice is to get your key stakeholders to all agree on a time and a place to meet and to book a few days where you can focus on the business instead of being stuck in the business.
If you're comfortable managing this process in-house then great. However, getting in an outside partner who can offer up an objective view is a sensible move.
As part of this discovery stage it's also wise to check out your competition. How do they project themselves? Is their message consistent? Does it filter through all of their brand channels?
Dare I ask, do you envy your competition and the quality of their collateral?
Whichever way you're leaning make sure you fully evaluate what they're doing and any identify any gaps you might have in your own employer brand toolkit.
This will typically involve an audit of your collateral.
What exists? What do you need? What do you want? What's worked well in the past? Got an agency? Got a tag line?
Candidate experience
Quite simply, experience is everything. According to Career Builder, 78% of candidates say the overall experience they receive is an indicator of how a company values its people.
So, if yours sucks it's going to speak volumes to the people you wish to attract.
A crucial part of discovering your employer brand is evaluating the experience you're offering.
Here's just a few pointers:
Make it easy to apply for roles. Offer up Whatsapp as a contact preference if it suits the culture of your business. Or at least give options.
Give great impressions at interview. Don't' be late. Be engaged, be prepared.
Keep your feedback specific and honest. This goes for unsuccessful as well as hired candidates. Tell them how they can improve.
Onboarding never sleeps. Regularly check-in with new hires, make sure their employee experience matches up to the big sell you gave before making them an offer.
Scope and defining the project
Who's doing what here, guys?
Once you're agreed on what needs to be done, it's time to assign roles and form cross-function workgroups to make it happen.
Teams and individuals need to be held accountable and there needs to be strong communication as creating your employer brand can't be done by just one function.
At the end of your discovery sessions, write down your priority tasks on post-it notes and begin to order them into segments such as 'must-have', 'nice-to-have', 'long-term plans'.
Whatever labels you apply, it's important to structure and prioritise your initial project goals and milestones. Whether that's setting-up an enhanced profile with Glassdoor (highly recommended!) or reviewing your application process.
This is by no means the full picture. But hopefully you've found some useful insight and it's raised a few points for discussion.
If you'd like to carry on the conversation then feel free to reach out: william.geldart@bps-world.com or connect with me on LinkedIn.